Order – Residence
Work in the system with any type of order that does not an office move, such as an apartment move, a residential moving or even a single item transportation for any private customer. For maximum efficiency all items are divided according to departments (parts) – the division of the rooms in the house were practiced for you in the most optimal manner if you did not find an object you can always add it in comments (or suggest it to us and we may add it in future update).
For quick and efficient creation and filling of a new order we recommend that instead of asking for details from the customer, go through the order in the order as it appears in the system departments and objects so that no item will be forgotten, especially on large house move quotes.
Once new order quote requested for a type of dwelling apartment, house, villa or any non office move there are eight departments (parts) in which the objects are organized:
Kitchen
Salon
Bedroom
First Room
Second Room
Third Room
Gardening
Variance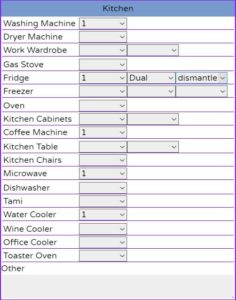 Selecting objects in each department is done quickly by selecting quantity, type, size and more. Because everything is organized thoroughly, you can set up a detailed and precise order within a minute:
The first selection field always indicates quantity of the object you choose, if you do not select the item quantity it will not be displayed in the order.
Object type can be according to the object itself. For example sliding or standard cabinet, a wooden or plastic garden table type, etc.
Dismantle / Assemble will always appear at the end of the object, if you have not selected any extra services of such the default is without dismantle or assemble.
Each department has a place to write Notes so if you have not located the object or it is unusual item, you can write it as additional notes.
Always remember to update the order if you making any changes otherwise they will not be saved!