Order – Office
Once you create a new office – business move, there are three departments in which the office move organized , kitchen and other objects are provided for quick and efficient work. Office quote also includes a number of fields available for different comments.
If you need to perform an office move with two Teams you can Clone the office order but provide a price only in one order, this way you can take two porter teams to the field, but the final sum will be correct in financial reports.
Once you created a new Office move quote, there are three departments in which the objects are organized:
Office
Kitchen
Variance
The selection of objects in the office department is done quickly by quantitative selections, if there are deviations and special equipment can be specified manually in the text area fields:
Click the Plus sign allows you to add more of the selected item, so if you move through the office rooms, just click and add more as needed.
To cancel or reduce quantity select Minus (-) and the product will be canceled.
Note that in the example Steel Shelves contain four by five for first room and six by two in second room, the result counts thirty two (32) totally.
Any equipment not included in office department should be commented in appropriate place:
Laboratory Equipment
Meeting Room
Special Equipment
Other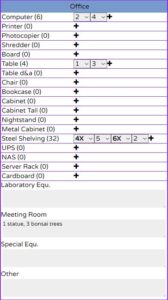 Quickly and efficiently setting up a price quote for transporting an office – we recommend that the field agent move to a room room and simply add a quantity of the object each time, while the system will be able to count the total items and specify a final quantity.
In most cases, it is recommended to send an organized quotation document with a contract from the company, rather than sending regular emails from the system as done to private customers.