Storage Units
The storage units window allows you to add new storage units, view and make changes to existing units. If your company provides storage services to customers, you must first create here all the storage cells in your possession. The storage units you created can be easily managed through the main window in the "Storage" tab and within any new or existing order quote.
Please note once you create a new storage unit, you can not delete it, however you can make all necessary changes and updates as needed
"Unit ID" – provide unique unit identification, the input should be between 1 to 6 characters long
"Unit Volume" – it is recommended to specify the unit cubic volume
"Unit Comments" – provide any additional information regarding storage unit
"Register" – click to create a unit in the system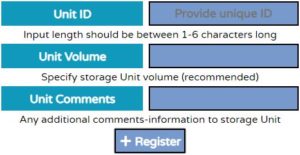 A table showing the storage units listed in the system. Note that if you wish to make any changes to units, you must edit and update each unit separately.
"Unit ID" – unique name of storage unit as it appears in the selection field of the order or "Storage" tab
"Unit Volume" – the cubic volume of the unit
"Unit Comments" – any important notes regarding current storage unit
"Active" – check whether set unit active or not
"Register" – click to to update any changes you made